FAQ or Q&A
This FAQ is in addition and supplementary to the official Blogger Help.
Click on any question to get the answer

This is an FAQ. The acronym stands for Frequently Asked Questions.
Back to top



What is a blog? Do I have to create a blog to send stuff to you?
A blog (from Web log) is a Web site that contains dated entries in reverse chronological order (most recent first) about a particular topic or topics. Functioning as an online newsletter, blogs can be written by one person or a group of contributors, as in this case. Entries may have images, commentary, and links to other Web sites. There is also a search facility.
The Second World War site, this site, is a blog - so clearly you don't have to create another blog to send stuff to it. You simply Post and Comment to the blog.
Back to top



What is the difference between a Post and a Comment?
A Post is the initial posting made by a Member. Look at the blog, what you see with orange headings are Postings. A Comment is exactly what it says, it is a comment you make on a Posting, The comment can be anything related to the original post or to a previous Comment. Both the initial Post and subsequent Comments make up a Thread. It is good blog etiquette to keep within the topic of a thread; a new subject requires a fresh Post.
Back to top



So, I can't post until I'm a Member?
That's right, you have to become a Member to Post.

That's fine, but how do I become a Member?
To become a contributing Team Member send an email to petergyATyahoo.com, replacing AT with @. I will then trigger a Google auto-invitation to you. The next step is to get a Google email account. Follow the steps in the auto-invite. Your Blogger username is the same as your Google email address name. The password for Blogger is the password you used to set up your Google account.
To recap:
1. Get a Google email account
2. Log into the blog using your Google username. For example, if this is your Google email address mymonika@googlemail.com then your username for signing in is mymonika.
3. Use the Google account password as the blog password.
4. Optional, to save constantly logging in, don't log out.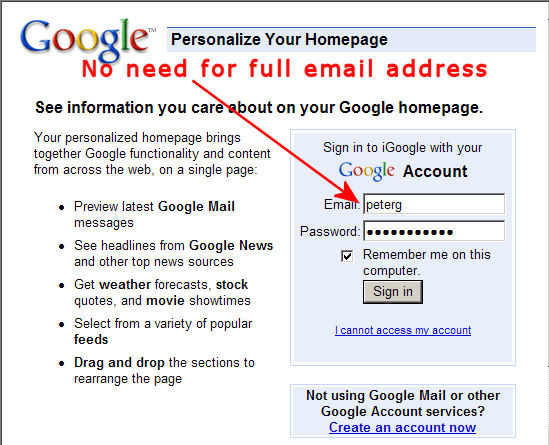 How do I set up my Profile and add my photo?
First, make sure you are signed in. If you cannot see this button

on your Profile Page, then you are not logged in. Having signed in, you will find a guide to creating your Profile here.
For guidance on adding your photo, or avatar icon to represent you, click here. If this is not clear to you I give further help here with a demo.

Click on this button
in the top left hand corner of the Main Page or your Profile Page.
This will take you to the Dashboard page. There in the top right you will see this: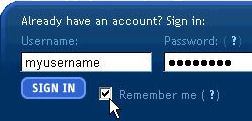 It is self explanatory, but do tick the Remember me box and, subsequently, do not sign out.

On the Profile Edit page I'm asked for my favourite movie. I don't have a favourite, should I enter 'none'?
Just leave any question window blank if you don't wish to reply or the answer is none. The question will not show on your Profile if you leave questions blank. In fact, my entire Profile was typed into the 'About me' window, leaving all else blank - except for the three Identity fields marked 'required'. You can avoid an Astrology sign by leaving birth data blank.

Can I Comment as a non-Member?
Yes, you can and are encourage to do so. In future, if we get many Members, Comments too will be restricted to Members, but for the time being anyone may comment, Members and non-Members.

To send a comment just click on 0 Comments in the line under the Post. You will be able to preview your comment before you send it. By the way, do not end your Comment with your name, that is done for you automatically at the beginning. Tip: to get to the last Comment in a long list you have previously read, just click on Collapse comments.

My text is coming out in one long mass. How do I make clear paragraph breaks?
To get a clear space between paragraphs, press Enter twice.
This is what happens if you press the Enter key once.
You get a break to a new line.
But you don't get a clear paragraph break space.
But if you press Enter twice, you get a clear space like this.

Can I send a photo with my comment?
No. Neither Members nor non-Members can send photos with Comments. All photos have to be in a Post, and only Members may Post.

OK, I'm a Member, so how do I Post?
This is easy: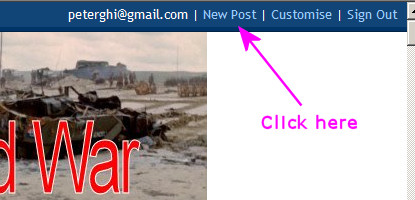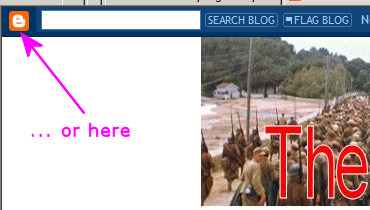 There is even a third way

lower down the page on the right. This one will take you to the Dashboard. If you are a Member of more than one blog, select the Blog you want to post to, then having got to the appropriate Blog, click Create new Post. That's all there is to it.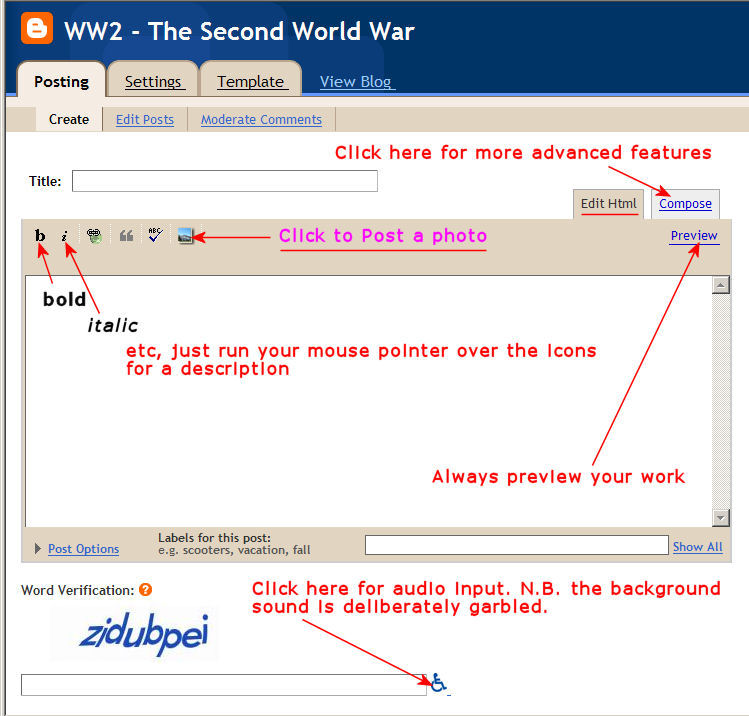 I am a Member, how do I post pictures?
For a detailed guide click here.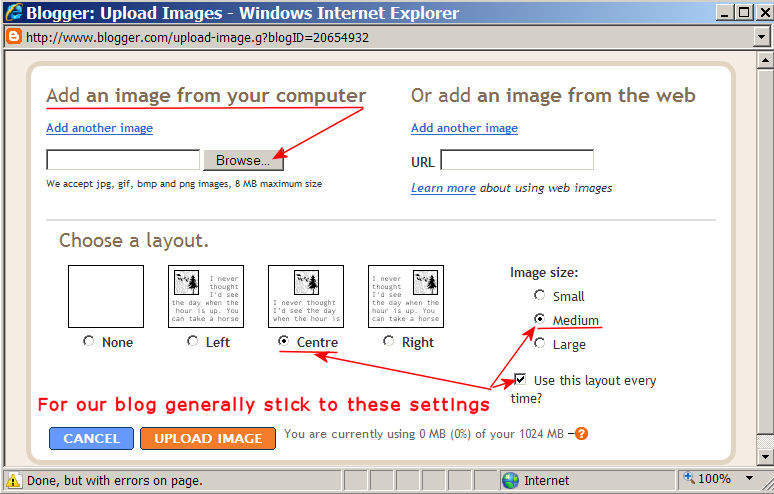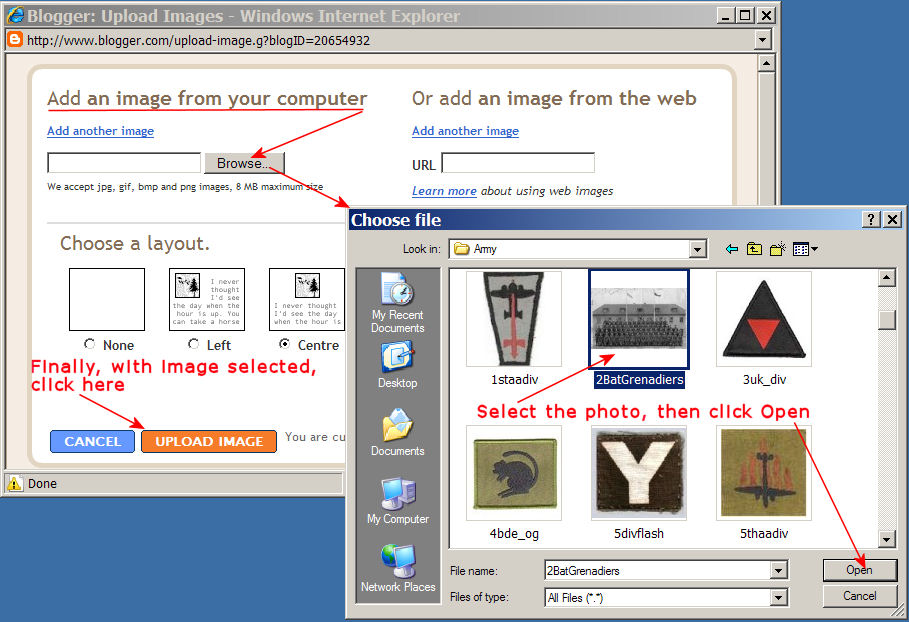 Can I send more than one picture to a Post?
Yes, you can. Just keep repeating the procedure for adding an image. Between the code for each image you can press Enter twice (to give a clear break) then enter some text. Then press Enter twice again and add the code for the second image. In this way you can add up to four images (or is it six, I forget now).
But you are not limited to the four or six, having reached the limit simply publish the Post (it will appear with its images) and then click Edit. You will then be able to add a further group of images. I have tested this with a sequence of over fifty images.
Bear in mind that the photos appear chronologically sequentially, so if you have four images to post, numbered from 1 to 4, then remember to post No. 4 first, followed by 3 then 2, and finally No.1. They will then appear in the correct sequence with No. 1 at the top.

I can include a photo with a Post, but I still don't understand how I can attach a photo to my Profile. How do I do that?
You get Google's Profile guide here, but it isn't as clear as it should be. So let me take you through it (I have coded it to open in a new window so that you can put the guide and this FAQ side-by-side). First create a phantom Post (i.e., one you will never send). First select the photo (must be reduced to 50Kb) and Post it, but don't publish it to the blog. This will give you the most important URL, the location of your photo you have just sent. It is the top line in the code, highlighted in the example:
Copy that line and paste it in here, on your Edit Profile page:

That's it! Now, whenever you Post or Comment your photo will appear.
Many of you have expressed difficulty in getting your photo on the blog. If you are still unsure, I have created a demo showing each stage. You may have to allow blocked content to play it if your browser is set to refuse Javascript and Flash.


I read that, thank you, but it keeps mentioning URLs, what are they?
An URL is the complete address including the protocol. Most web addresses begin with www., an URL simply includes the http:// part. A complete explanation is beyond the scope of this FAQ, but if you do want to know more go here.

I am a Member and I have a long story to Post, is that acceptable?
If you have a long story, more than three paragraphs, you should only Post the title with perhaps a few introductory words and then immediately send the entire text to the blog as the FIRST COMMENT to your heading. If the story is over 3,000 words long, consider breaking it up into Chapters and putting the chapters in a sequence of Comments. As Blog Editor I could do this for you, but it is best if you do it yourself so that your username and photo (if your Profile has one) is included with each Chapter. If your story includes photographs, then they should be in the Post section, then, after your heading in the Post, insert this code: <font color="green"><i>For the rest of this story click on the attached Comments</i></font>


How do I create links to other websites?
The correct way of doing this is to use this code:
<a href="URL">Text to Activate Link</a>
Or to add emphasis by using bold:
<a href="URL"><b>Text to Activate Link</b></a>
Here is an example of the code which would link to my website:
<a href="http://www.petergh.f2s.com">Weborama 2009</a>
In that example the URL is http://www.petergh.f2s.com and the TEXT trigger is Weborama 2009.
That code would generate this link: Weborama 2009
The trigger words can be anything, for example 'here' or 'click here'
Like this: To go to my website click here.
Avoid entering a bare link address without html code, especially a long URL such as http://www.bbc.co.uk/ww2peopleswar/stories/44/annnnnnnn.shtml this is 'seen' as a single word by the blog and goes into the second column shoving down all the right column entries (the permanent links, etc).


Everytime I try to Post I am asked for my username and password. Is this usual?
Yes, it is to stop others posing as you. However, there is a neat way around this: simply don't log out, when you leave the site just close the window, don't log out. Create a shortcut to the blog or put it in your list of Favourites, then close the window.

I can't log in. What should I do?
Follow the advice given here.

Help! I've forgotten my password!
The cavalry is coming to the rescue, go here